---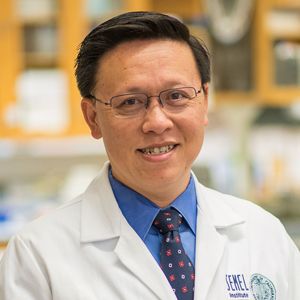 Professor: Center for Neurobehavioral Genetics at the Semel Institute for Neuroscience & Human Behavior; Department of Psychiatry & Biobehavioral Sciences
Affiliations: Brain Research Institute; David Geffen School of Medicine at the University of California, Los Angeles
---
Dr. X. William Yang received his undergraduate education at Yale University, obtaining combined B.S./M.S. degrees from the Department of Molecular Biophysics & Biochemistry (MB&B) in 1991. He did his master's thesis research in the laboratory of Professor Joan A. Steitz. He then completed M.D./Ph.D. training at Rockefeller University (Ph.D., 1998) and Weill Medical College of Cornell University (M.D., 2000). During his Ph.D. thesis research under the mentorship of Dr. Nathaniel Heintz at Rockefeller University, William co-invented (with Nathaniel Heintz and Peter Model) a genetic technology to engineer Bacterial Artificial Chromosomes (BACs) and to generate transgenic animals.
William's own laboratory, established at UCLA in 2002, has made significant contributions in the use of BAC transgenesis to model human neurodegenerative disorders including Huntington's disease (HD), Huntington's disease-like 2 (HDL2) and Parkinson's disease (PD), and the use of such models to dissect disease mechanisms and identify therapeutic targets. The Yang lab has also developed novel tools to study neuronal cell-type-specific gene expression, and to decipher in vivo protein interaction networks. Finally, the Yang lab studies the role of basal ganglia circuitry in the generation of normal and pathological behaviors.
Dr. Yang is a recipient of Brain Disorder Award from the McKnight Foundation, a 2014 NIH BRAIN Initiative award, and serves on the scientific advisory board for the Hereditary Disease Foundation.
---
88139 Total Views
3 Views Today